The Discovery of Insulin in Québec
Author: Louis Lebel
In 2021, Defining Moments Canada marks the centenary of the discovery of insulin. It was in 1921 that Dr. Frederick Banting and his team performed the experiments that led to the creation and development of what has, over the past 100 years, enabled millions of people with diabetes to survive their disease. We are marking this discovery by creating teaching resources and educational content to enable teachers to nurture the next generation of Canadian innovators.
Last July, I was given the task of finding French-language content that would be equivalent to what we already had in English about the discovery of insulin. I was to find newspaper articles announcing the discovery or the Nobel Prize of the Canadian research team, and to find the French-Canadian links to the discovery. There must have been researchers in Quebec or elsewhere in French Canada who had a role or had their say, and the country's French-language newspapers must have covered them widely in view of the revolutionary discovery.
I began my research by delving into the historiography of French-Canada and by speaking to experts in the medical history of Quebec to learn what the historians had to say. I quickly found my answer: nothing; they don't say anything about it. With the exception of Canadian history textbooks which recount Banting's discovery, French Canadian history hardly covers the subject of insulin and diabetes. No researcher has looked into the question of the beginnings of insulin in Quebec and it seems that the emblematic figure of Banting, who represents the fight against this disease for so many Canadians, has no reflection in French-Canada. I looked for personal stories of insulin patients, such as those of Leonard Thompson and Elizabeth Hughes familiar to the English side of Canada, but, again, nothing. Weird. The discovery of insulin had international impacts and led to Canada's first Nobel Laureates after all – one might expect history to remember a little more.
So then I turned to media coverage of the discovery. History may not have looked at it much, but what were people saying about it in the moment? Surely the papers covered Banting's innovation, the early patients, and the Nobel Prize? As no work is devoted to the question and no collection of these articles exists, I myself scanned the archives of the major newspapers of Montreal and Quebec in the months of the discovery and of the major events that had taken place. garnered media coverage elsewhere in Canada. I was surprised to find only short articles with minimal detail.
Events in Ontario that made the front page were on the 8th page in Quebec, if they appeared at all in the news of the day or of the week. Looking through months and months of editions of these major newspapers, I found only a few passing mentions of diabetes and insulin despite the prevalence of this disease being similar in Quebec and the rest of Canada. The first articles describing the discovery are rather skeptical, while those in the Toronto newspapers are enthusiastic and detailed. How can we explain this lack of enthusiasm for insulin in French newspapers?
1921: The Year of the Discovery of a Cure … for Tuberculosis?
The French newspapers of the 1920s didn't talk much about diabetes and the discovery of insulin, but I found that rarely did a week pass without an article about tuberculosis in the province. Advertising for pseudoremedies, fundraising for a tuberculosis hospital, articles reviewing government actions or the numbers of cases; tuberculosis was everywhere.
I learned from these articles that the tuberculosis epidemic was raging in Montreal, supposedly one of the most affected cities in North America. The statistics published each month in Le Devoir reported nearly 100 cases (and almost as many deaths) per month in the 1920s and Montreal had 10,000 sufferers in 1922. The directors of the province's hygiene service increased their studies and efforts to raise awareness with leaflets and brochures advocating good hygiene.
The disease occupied much of the public conversation around hygiene and health in Quebec, as it did in countries in Europe such as France. In fact, it was in this country that in 1921 a team of researchers from the Institut Pasteur discovered the harmlessness in humans of Bacille Calmette-Guérin (BCG), an anti-tuberculosis vaccine developed a few years earlier to treat the bovine population. Beginning July 1921, clinical trials demonstrated the effectiveness of this vaccine in newborns in France and from 1924, the BCG vaccine was distributed to French doctors who requested it. Did these innovations in the world of tuberculosis, which occurred in the same years as the discovery of insulin, overshadow any potential interest in insulin among French Canadians? Did the prevalence of tuberculosis in Montreal and the fact that the discoverers of a potential cure were from France result in news of Banting's discovery being relegated to the background?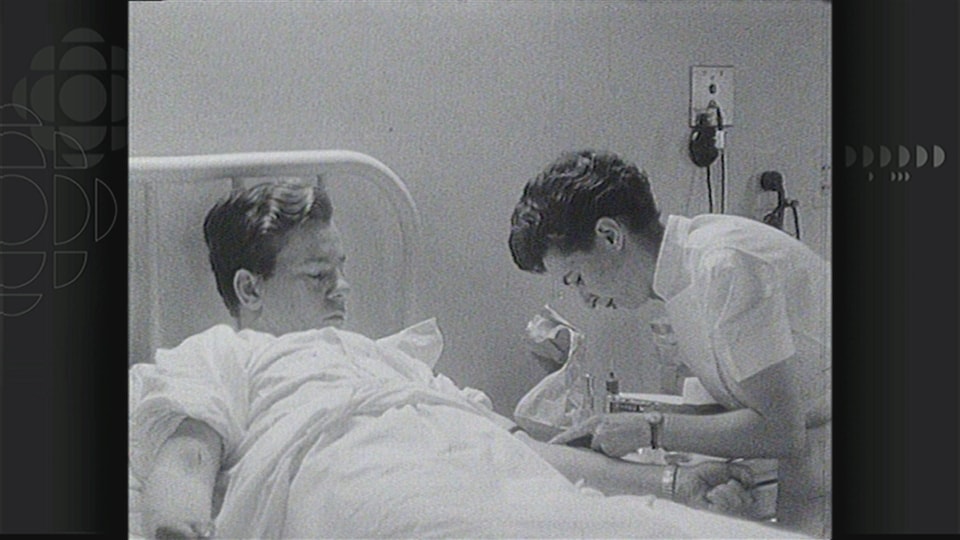 Emblematic Figures in the History of Medicine: Frederick Banting and Armand Frappier
Dr. Frederick Banting has become a symbol of 20th century medical innovation in Canada. It was he and his team who made the ground-breaking discovery of insulin, and they were the first Canadians to be awarded a Nobel Prize. Numerous schools, awards, and scholarships bear his name; his rural Ontario homestead is preserved by his family and his London, ON home is today a national historic site. I do not think I am wrong in saying that Banting himself has become a monument within Canadian history.
However, Frederick Banting does not occupy this prominent place in the French-speaking historical consciousness of his country. Until recently, I didn't know who he was and learned from asking around that I wasn't the only one. Despite the international importance of Banting's innovation, his name is only mentioned in passing in most French historical works and if we speak of him today, it is only in short references.
Quebec and French Canada are not ignorant of their medical and scientific history though. The names of Irma Levasseur, Camille Laurin or Brother Marie Victorin are well-known. Jacques Beaulieu's book entitled « Ces médecins qui ont marqué le Québec » references the famous Wilder Graves Penfield, who worked for a long time at McGill University in Montreal. Quebec does not seem to forget Banting because it neglects scientific history, but simply because French Canada's collective memory is occupied by a different great Canadian innovator of the early 20th century.
Dr Armand Frappier received his medical degree in 1930, then studied tuberculosis in hospitals in the United States and at the Institut Pasteur in France. In 1938, he was involved in the founding of the Institute of Microbiology and Hygiene at the University of Montreal, which would deal with the creation of vaccines, including one for tuberculosis among others. It was Frappier who brought back from Paris a vial containing a strain of Bacille Calmette-Guérin, and it is he who pushed its production in Quebec. This vaccine, the safety of which is controversial, has never seen mass distribution in North America, with the exception of Quebec, where Frappier was able to assert his influence. Has the BCG vaccine been more successful in Quebec since it was designed in France? Did the fact that tuberculosis particularly affected Montreal and its surroundings made it possible for this vaccine to be more easily accepted here than elsewhere?
Frappier is today an emblematic figure of 20th century innovation in Quebec. Like Banting, he was named to the Canadian Medical Hall of Fame and a museum dedicated to his life and work was established in Laval. The institute which he founded in 1938 and directed until 1975 bears his name today, as do several schools. Frappier and Banting were both innovators in the medical field and received national and global acclaim. Both are monuments to Canadian medical history today, but they do not hold the same place in public memory everywhere.
However, one does not go without the other. Banting's innovation certainly inspired Frappier and led him to innovate himself, if not in substance, certainly in form. In a 1945 article where Frappier describes the origin and goals of the institute that will bear his name, he clearly explains the what he learned from the Connaught laboratory and the School of Hygiene at the University of Toronto, where Banting worked. Frappier was inspired by the French method he acquired at the Institut Pasteur in Paris, but it was the Toronto laboratories that were his model. As early as 1925 the government of Quebec sent doctors to Toronto to study the functioning of their research institutes. Frappier founded his institute with their findings and the knowledge that these laboratories encouraged innovation like that of Banting.
"At the University of Montreal, we thought of taking the same means as at the University of Toronto to promote scientific effort and specialized teaching in Microbiology, Public Hygiene and Preventive Medicine. Canada would not have too many institutions like the Connaught Laboratories & School of Hygiene. Quebec, with its large population and its prospects for the future, would make a real investment by promoting the erection of an Institute of Microbiology and Hygiene, which would support the recovery of the considerable sums sent each year to external institutions or industries for the purchase of biological products (serums, vaccines, etc.) used in human and veterinary medicine.

We also wanted, in this Anglo-Saxon ocean of North America, to create a scientific island, where we would organize research according to the French method, logical and bold in the hypotheses and fertile in discoveries, allied to the admirable American technique in its precision and efficiency. We also hoped to invite our microbiologists and our hygienists, dispersed throughout the Province [of Quebec], to combine their efforts in order to do a scientific, educational, economic and national work capable of carrying far the reputation of the Province of Quebec and its educational and scientific institutions."

Armand Frappier, 1945.
20th Century Canada: An Example of Syndemic Thought
The goal of Defining Moments Canada in marking the centenary of the discovery of insulin is not only to recognize this historic moment, but also to learn from it. An important concept that we want to use in order to unbox Banting's story and understand its importance is that of syndemic thought.
The syndemic approach relates the social determinants of health and brings to the fore the idea that ailments are exacerbated by social and economic factors. According to Merill Singer, a syndemic refers to an accumulation of ailments that leads to more severe harm in the patient. Basically, several diseases or several simultaneous pandemics cause a syndemic; syndemic thinking involves analyzing the accumulation of these medical crises and multiple social and economic factors influencing the various strata of a society. It was with this magnifying glass that I decided to look at twentieth century Canada, in the context of my research which always fell from diabetes to tuberculosis.
Diabetes is a chronic disease, but not infectious, while the transmission of tuberculosis, a virulent and fatal disease, is intimately linked to hygiene and cleanliness. Through syndemic thinking, we can understand the danger of the two diseases, both irremediable and both prevalent in Canada in the 1920s. In addition, this approach allows us to appreciate the impact of the social determinants of these diseases, which explains the prevalence of tuberculosis in the large city of Montreal.
Despite the existence of the two diseases in Quebec, does syndemic thought allow us to understand why tuberculosis affected the collective conscience more? Do social and economic factors in Quebec and specifically in Montreal, supposedly the most affected American city, explain why French Canadians, or at least their media, seemed more interested in the state of tuberculosis than in the discovery of insulin? Even the newspaper article announcing the discovery of insulin for the first time makes reference to tuberculosis!
But let us remember that Canada was not facing two distinct medical crises, but a syndemic. Dr. Banting's innovations in diabetes and Dr. Frappier's innovations in tuberculosis have all contributed to improving Canadian public health conditions. Social conditions in each region have dictated research and public interest priorities, but syndemic thinking allows us to step back and consider the bigger picture. Banting's work at Connaught laboratories and at the University of Toronto allowed Dr Frappier, inspired by researchers at the Institut Pasteur, to create his own research institution in Montreal and to advance research in his own way. Innovation leads to innovation, although the field is not exactly the same, and all in the larger context of public health.